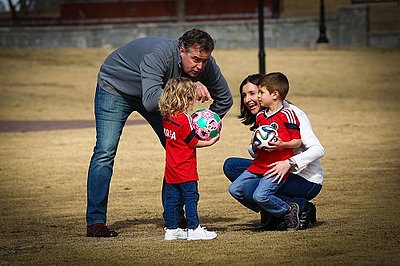 Gwinnett County stands as one of the fastest growing and most culturally diverse counties in the nation. Judge Bratton has held a life-long commitment to global diversity and comes from a family inclusive of many different cultures. His grandfather was raised in Kenya as the son of missionaries. He spoke Swahili fluently, and later become a pediatrician once he returned to the U.S. at the age of 18. Today there is still a side of the family that continues to reside in Kenya.
Judge Bratton received his undergraduate degree in German, has studied and worked abroad, and remains dedicated to international study. While in private practice he had the opportunity to represent clients from many different nationalities including but not limited to Austrian, Chinese, Colombian, Indian, Jamaican, Mexican, Korean, and Korean-American citizens. As a State Court Judge, he has the duty to hear matters involving many international agreements and disputes. Judge Bratton is quick to note that he joined the Navy in 1990 in order to see the world, and that when he came home he learned that the world had come to Gwinnett County.
Judge Bratton's family itself is a blended family. He met his wife, Nidia, a Colombian native, at St. Monica's Catholic Church in Duluth in 2008 and they were later engaged in Bogota, Colombia. Nidia spent 12 years obtaining her U.S. citizenship and the two were married one year after her naturalization ceremony. They have two children, Sebastian and Gabriela, and are residents of Suwanee, Georgia. Shawn and Nidia are raising their children to speak English, German, and Spanish.
©2023 Friends to Elect Judge Shawn F.Bratton. All rights reserved.