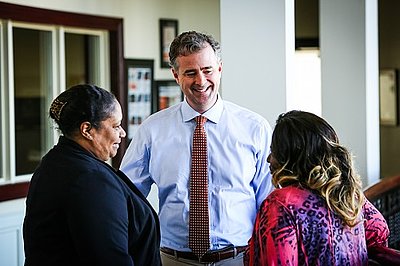 Judge Bratton was appointed to the State Court bench in 2014. Prior to that time he had served as a part-time Gwinnett County Magistrate Judge since January 1, 2012. He served honorably, working days, nights, weekends, and holidays, all while juggling his private practice and a new family until the time of his State Court Judicial Appointment in September 2014. Since then he has served the State Court and has conducted countless hearings, trials, DUI Court calendars, public events and matters pertaining to his role on the judiciary.
In law school Judge Bratton first clerked at the law firm GOERG Rechstanwaelte in Cologne Germany and then clerked for legendary lawyer Bobby Lee Cook at Cook & Connelly in Summerville, Georgia for the remainder of his law school career. He also clerked with The Federal Defender Program, Inc. in Atlanta and then for the late Hon. Harris Adams at the Georgia Court of Appeals during the summer of 2003.
Judge Bratton's first job after law school was in the District Attorney's Office for the Alcovy Judicial Circuit in Walton and Newton Counties. There he prosecuted a wide variety of felony and misdemeanor cases. He next joined the Gwinnett County Solicitor's office where he spent the entirety of his time assigned to a trial division. It was there that he helped implement the DUI Treatment Court Program, a program over which he now presides. With a strong desire to one day serve on the judiciary, he left the prosecutor's office and opened a solo practice until being hired on with The McGarity Group, LLC in Buford, Georgia. While there he spent four years honing his civil practice skills and handling a wide variety of civil litigation until joining the law firm Mahaffey Pickens Tucker, LLP in April 2010. At MPT, Judge Bratton litigated and tried a wide variety of civil cases, including condemnation, debt collection, land-lord tenant, personal injury, contract law, wrongful death, and zoning matters. During his time in private practice he also served as an assistant solicitor for the Cities of Suwanee, Duluth and Lawrenceville.
Navy Achievement Medal for heroics in putting out an onboard submarine fire which occurred onboard the USS Pennsylvania in 1995.
Certificate of Completion for the Adult Drug Court Planning Initiative (DCPI) training program, August 2-4, 2005, in Traverse City, Michigan and April 26-29, 2005, in Charlotte, N.C. in preparation for
the formation of the Gwinnett County Drug and DUI Court Programs.
Recognized for assisting in implementing the Gwinnett County DUI Court from April 2005 through January 2006.
Recognized by Rotary Club of Gwinnett Mosaic for outstanding dedication and service as Membership Chairman from 2009-2010.
Awarded Third (3rd) place finalist in the regional American Trial Lawyers Association Mock Trial Competition, 2003.
Civic Activities:
Graduate of Leadership Gwinnett, 2007-2008
Founding Member of the Rotary Club of Gwinnett Mosaic, 2009 – Present
Graduate of Leadership North Fulton, 2013-2014
©2023 Friends to Elect Judge Shawn F.Bratton. All rights reserved.