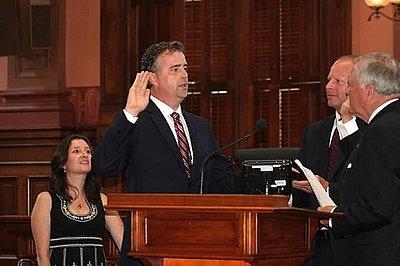 DUI Treatment Court
While assigned as an assistant solicitor, Judge Bratton was tasked with the training and implementation of the Gwinnett County DUI Court program. The DUI Treatment Court is a program designed to reduce recidivism of repeat DUI offenders through court enforced substance abuse counseling and supervision. Judge Bratton served as the first prosecutor for the DUI Court program and then acted as defense counsel for that program after entering private practice. As State Court Judge he now presides over one of the 2 DUI Court programs that he helped implement. Graduates of the DUI Court are 50% less likely to reoffend, and they report greater overall satisfaction with their lives and personal relationships than non participants. For more information of treatment courts please visit the National Association of Drug Court Professionals at www.NADCP.org.
Veterans Matter
As the sole military veteran on the State Court bench, Judge Bratton is uniquely qualified to address and oversee the needs of those persons dealing with the stressors and realities related to the readjustment to civilian life after serving in the armed forces. In these situations, public safety is best served through a reasoned and moderated use of judicial resources focused on changing behavior through self-accountability unique to the circumstances of those struggling to make the adjustment back into civilian life.
©2023 Friends to Elect Judge Shawn F.Bratton. All rights reserved.